Voting Membership
Subscription period: 1 year
No recurring payments
Sign up!
Voting Members – A Housing Authority or Tribally Designated Housing Entity or Tribe which does not have such an entity, but is the recipient of a grant for Indian Housing from HUD, including a single native Hawaiian entity that is the authorized recipient of grants for native Hawaiian Housing from HUD. These members have the right to vote on issues raised before the organization that might direct the organization. In 2013, we had 261 housing programs in good standing, representing 454 tribes, Native Alaskans and native Hawaiians.
Voting membership to NAIHC provides direct access to services and benefits that can help your tribe or TDHE efficiently administer housing programs. Members benefit from NAIHC's position as the preeminent organization for Native American housing needs, and our success can be attributed to the valuable input of its members. Feedback is welcome and enables NAIHC to handle the major issues in Indian housing, ensuring that your individual tribe's needs are heard. Voting Members are allowed to vote on Membership Resolutions at NAIHC's Annual Convention and Trade Show.
Voting Membership Benefits
A vote in deciding NAIHC's stand on issues that affect housing in Indian Country.
NAIHC Voting members receive reduced registration rates for conferences, the convention, and training courses.
Emails and updates about legislation, regulations and training that impact NAHASDA and your grant.
Advocacy dedicated to all aspects of native housing.
Access to associate members who have committed to working with Indian communities and programs.
Membership Directory: Voting Membership
Click on the region map below to view a listing of NAIHC members in that region.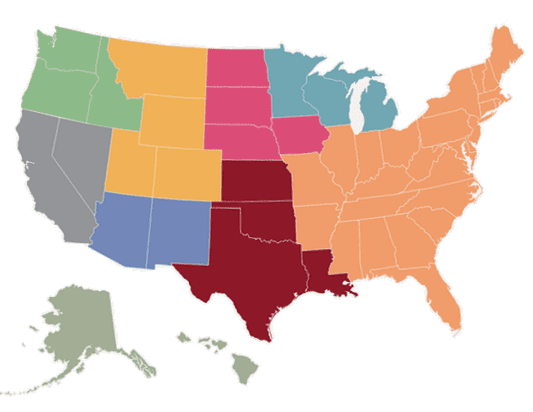 Region I
AL, FL, ME, MA, MS, MO, NY, NC, RI